The history of the Roanoke and New River Valleys explored in new hardcover book
Pediment Publishing and The Roanoke Times announce a limited-edition book that commemorates the 1930s, 1940s, and 1950s in the Roanoke and New River Valleys. This second collector's book will showcase additional photo memories of Roanoke Valley and New River Valley focusing on the iconic decades from 1930 through 1959. We are thrilled to partner with local area historical organizations and to again include images from our readers in this heirloom-quality coffee-table book that will truly capture the rich heritage of our area.
Additional details:
Title: Memories of the Roanoke and New River Valleys: A Pictorial History of the 1930s, 1940s and 1950s

Hardcover, collector's edition

ISBN: 9781597259187

Published by Pediment Publishing

144 pages on 80# archival stock meant to last and not yellow for generations

Printed in North America
About The The Roanoke Times
The Roanoke Times is proud to support local history and compelling journalism. Learn more and subscribe today.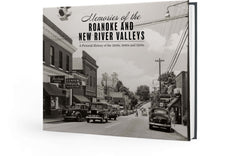 Roanoke Times, Roanoke, VA presents
Memories of the Roanoke and New River Valleys: A Pictorial History of the 1930s, 1940s and 1950s
$40.45 $44.95