Rams win! Celebrating a historic season with a hardcover collector's book
Pediment Publishing and Los Angeles Times announce a limited-edition book that commemorates the Los Angeles Rams' historic season. With game-by-game coverage from Week 1 against the Bears to Super Bowl LVI vs. the Bengals, this book is full of stories and action-packed color photos from the award-winning journalists of the Los Angeles Times.
Production is underway now, with release set for March 2022. Pre-orders are open at Pediment Publishing.
Additional details:
Title: Rams Tough: The Story of the Los Angeles Rams' 2021 Championship Season
Hardcover, collector's edition
ISBN: 9781638460145
Published by Pediment Publishing
160 pages on 80# archival stock meant to last and not yellow for generations
Printed in North America
About the Los Angeles Times
The Los Angeles Times covers Rams football with a full staff of journalists. Their compelling coverage of Los Angeles sports is second to none. Subscribe today and support local journalism.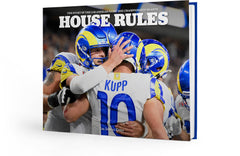 Los Angeles Times presents
House Rules: The Story of the Los Angeles Rams' 2021 Championship Season
$45.00