Fresno Memories Vol. II Cover Announced
We are proud to announce the final cover for the upcoming Fresno Memories II pictorial history book, as seen below.
This hardcover book is the perfect holiday gift for your loved ones across Fresno. Pre-order today to save big!
Depicted on the top left of the front cover are United Farm Workers members picket Teamsters headquarters in Fresno, 1973 and on the top right is Eddie Navarro, Seven, left, and his 10-year-old brother, Gilbert, meet Senator John F. Kennedy at the Fresno Air Terminal, during a visit on February 13, 1960 and on the bottom is Fresno Bee carriers and winners of a new customer contest are photographed in the 1954 Indianapolis 500's official pace car in Billy Vukovich's yard. Local racer Vukovich won that year's race. From left: Peter Steffen, Gary Gostanian, Clyde Osborne, and Danny Trafican (all photo courtesy of The Fresno Bee). What a fantastic cover for this unique hardcover book!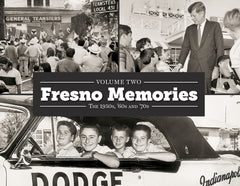 The Fresno Bee presents
Volume II: Fresno Memories: The 1950s, '60s and '70s
$39.95