The first United Farm Workers Union convention in Fresno
The First Constitutional Convention of the United Farm Workers Union was held at Selland Arena in 1973, eleven years after the United Farm Workers Association was established. The movement was borne of injustice toward workers in the agricultural industry; laborers had been organizing since the early 1960s, their momentum growing until the time came for the Great Grape Strike and Boycott.
Between 1966 and 1968 the wine grape industry was able to come under contract and settle disputes, thanks in very large part to the effort of the Agricultural Workers Organizing Committee and The United Farm Workers Association. There was still work to be done however, as there were many other sectors of agriculture where workers were being exploited. Activist Cesar Chavez was the founder and driving force behind the United Farm Workers Union and came to California several times to convince laborers and others to join the cause, including his trip in 1973 to attend the convention.
Chavez wrote in the First Constitutional Convention call to union members, "At this Convention we shall renew our commitment to organize the rural poor and, when necessary, we shall strike, boycott, demonstrate and engage in political campaigns. We want to be treated with the respect we deserve as working men and women. We want our rights as free and sovereign men and women to be recognized. We want to be free of the paternalism of the growers. We want to be free of the labor contractor. We want to be free of charity at the price of our dignity. We want to be equal with all the working men and women of this Nation. We Want a just wage, better working conditions, a decent future for our children. We are going to continue struggling until we win. We shall overcome! Si se puede!"   
See these and hundreds more beautiful photos from Fresno's history in the Bee's new book, Fresno Memories II: The 1950s, '60s, and '70s.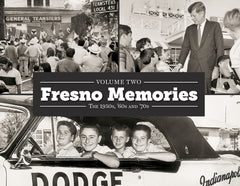 The Fresno Bee presents
Volume II: Fresno Memories: The 1950s, '60s and '70s
$39.95