The Original Fresno County Courthouse
Fresno County District Attorney C.G. Sayle boldly declared in 1874 that the new Fresno County Courthouse would be "the grandest and noblest edifice that has ever been planned and contemplated in [the San Joaquin] valley," and "when completed, is expected to stand the storms of winter and the heat of summer, for the period of 1,000 years or more."
Completed the following year, the building was indeed grand, and made even moreso following expansion in 1893, but the promises of its longevity fell short.
In the 1960s it was deemed incapable of withstanding a strong earthquake, like the 7.5 magnitude tremor that hit Kern County in 1957, and officials overcame strong opposition to order the construction of a new courthouse. The old courthouse was razed in 1966 and replaced by a modern low-rise. 
The loss of such a beautiful and historic building remains a sore subject for many Fresno natives.
Read more about the courthouses at the blog of Fresno Bee photographer John Walker and find these and many more historic images in the Bee's new pictorial history book, Volume II: Fresno Memories!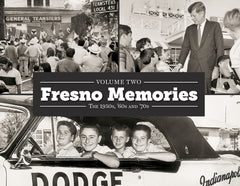 The Fresno Bee presents
Volume II: Fresno Memories: The 1950s, '60s and '70s
$39.95