Sky High Memories of Warren County
The Post Star is proud to announce a beautiful, hardcover retrospective of Warren County, "Warren County Memories II: The 1940s, '50s and '60s." Following where "Warren County Memories: The Early Years" left off, this heirloom-quality coffee-table book features memories of Warren County from the 1940s through 1969 in historic photographs. Learn more by clicking the link above or "More info" at the bottom of the page.
--
Fond memories of Warren County surround Lake George and the Hudson River. Summers of leisure spent basking in the waters and winters of beauty spent admiring the snow-covered shores are a commonality shared by many living in the Glens Falls area. Astounding aerial shots have been taken of the area throughout the years, from this 1945 view of Glens Falls and the Hudson River through the current day.
Below, this 1956 shot reveals the stunning beauty of Lake George that homes and businesses were lucky to be near by.
A 1963 aerial view of Lake George's southern shore shows these homes and businesses branching out from the shoreline, a part of a growing county.
Finally, this 1967 shot captures a wintry transformation of Lake George and the Adirondack Mountains, a captivating backdrop to Warren County.
Get a glimpse into Warren County history, and see hundreds more beautiful, historic photos like the ones above in The Post Star's new book, Warren County Memories II.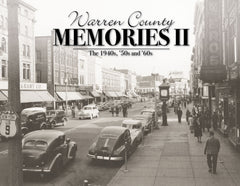 The Post-Star presents
Volume Two: Warren County Memories: The 1940s, '50s and '60s
$44.95