Nebraska's legacy of hospitality to America's armed forces commemorated in new hardcover book
Pediment Publishing is proud to announce a partnership between the North Platte Telegraph and the Lincoln County Historical Museum on a new limited-edition book, the second in their series commemorating west central Nebraska's century-old legacy of hospitality to America's armed forces. The story is told in heartwarming letters dating to the present day by some of the 6 million U.S. and Allied service members who not only visited North Platte's World War II Canteen but also expressed their thanks and shared their stories through letters and telegrams they, their loved ones or their descendants sent to North Platte. It is a follow up to the 2019 book, Canteen: As It Happened, which showcases on-the-spot Canteen coverage and the repository of Canteen photos at the Lincoln County Historical Museum in North Platte.
Additional details:
Title: Canteen: The Letters
Hardcover, collector's edition
ISBN: 9781638460138
Published by Pediment Publishing
128 pages on 80# archival stock meant to last and not yellow for generations
Printed in North America
About The North Platte Telegraph
The North Platte Telegraph is proud to support local history and compelling journalism. Learn more and subscribe here.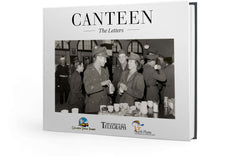 North Platte Telegraph presents
Canteen: The Letters
$39.95