Longview's Long History of Skiing
The Longview Ski Club has been active since 1935, one year before the first chairlift opened in the United States and two years before Timberline Lodge opened on Mount Hood.
Before its eruption in 1980, Mount St. Helens was the go-to skiing spot for the Longview Ski Club. In the early days, club members had built their own lodge on Mount St. Helens and used a homemade rope tow to reach the slopes. When the club became more active following World War II, members started using a snowcat to avoid hiking up the mountain.

Actively planning trips to local ski spots since 1935, the Longview Ski Club is one of the oldest ski clubs in the Northwest. Today, the club even plans a yearly trip beyond their usual haunts that takes members as close as Idaho or as far as Europe.
See more stunning and historic photographs of Cowlitz County in The Daily News' latest hardcover pictorial history book, Greater Cowlitz County Memories II.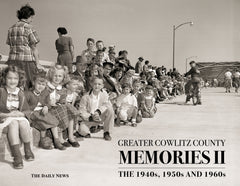 The Daily News presents
Volume II: Greater Cowlitz County Memories: The 1940s, 1950s and 1960s
$44.95