Stunt Pilot Bettie Lou Rogers
The late Bettie Lou Rogers was born June 13, 1922 in Laurel, Mississippi. Her interest in flying began at age nine, when her father brought her to an air show and she promised that one say she would be a pilot. "I was born to be a pilot," Rogers was quoted in her daughter's memoir. "As soon as the plane lifted off, all my troubles were gone. Freedom. I was all alone up there. I actually heard singing — like angels." 
"As soon as the plane lifted off, all my troubles were gone."
At the age of twenty-three Rogers learned her air skills from her husband at the time, Donald Bray, a pilot and co-founder of the Twin City Flying Club. In an interview with The Daily News from 2003 Bray recalled, "I taught her to fly … and she kinda got the idea it would be nice to do aerobatics, so I had to teach her aerobatics and so on."   
Rogers put in countless hours practicing stunt flying and aerobatics. According to a 1949 national newsletter published by Sears, where Rogers managed the Longview store, "...An accomplished acrobatic flyer, she has flown in two all-women's air races, taken part in three air shows in early August, one in Portland. In 1950, she's scheduled to fly in the Northwest Coast's first all-women's air show." 
Her flying career continued until an engine failure caused her to crash on the runway on June 12, 1950. Thankfully Bray and several other men saw what was happening and prevented Rogers from any serious injury. "It didn't hurt her any," Don said in his interview. Despite her lack of physical injuries, Rogers never flew again, and she and Bray divorced soon after. 
Rogers is remembered as a headstrong and independent woman. "There was no place where she wasn't outspoken or charging where she wasn't supposed to be, demanding her rights," daughter Janet Rubert said. She leaves behind a legacy in her daughter, who also learned to fly, and who she no doubt taught to stand firm, with two feet on the ground.
Learn more about Cowlitz County history and see hundreds of beautiful, historic photos in the Daily News' new book, Greater Cowlitz County Memories Volume II.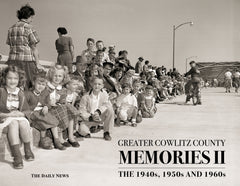 The Daily News presents
Volume II: Greater Cowlitz County Memories: The 1940s, 1950s and 1960s
$44.95