Greetings from Madison: Historic Postcards
In today's world of instant messaging, it can be difficult to imagine waiting days or weeks to deliver a quick note. Postcards were one of the original direct messages, an effective way to offer best wishes, confirm appointments, or deliver simple instructions, short of composing a long-form letter.
Step back in time with these historic postcards and the century-old correspondence they carry. 
Postmarked December 1910
Hello girls,
I am sorry to let you know that I am still living. My hardest work is carrying my books up and down the streets. If you feel like skating come up here, we have got more ice than we want. I hope you are all well and happy. My address 1112 Bruin St. From Wm. Schroeder
Postmarked August 5, 1924
Ahoy Pirate,
I'm returning home today— leaving here this A.M. Haven't I repented sufficiently? Hope so, anyway. Ring me anytime for I want to hear your voice. Once more, yours, "Ed."
Postmarked November 13, 1911
The game is Sat. Nov. 18. I will expect you Thursday. I do not know what kind of a chance we have, for Pollack broke his leg last Saturday. Merritt
Postmarked September 2, 1925
Dear Bob,
Gee but it's great to be out in the open. Yesterday I ate so many wild grapes that I was so sick. There also is a lot to do out here besides eating, swim in the morn and cop apples at nite. Away from the dirt and smoke, Joe
 ---
Hundreds of beautiful postcards from in and around Madison can be found in the Wisconsin State Journal's new book, "Moments in Time."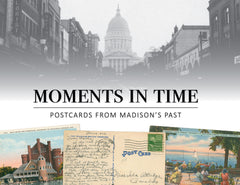 Wisconsin State Journal presents
Moments in Time: Postcards from Madison's Past
$34.95 $44.95