Relive the rise of the Georgia Bulldogs under Coach Kirby Smart in a new hardcover book
Pediment Publishing and the Athens Banner-Herald announce a limited-edition book that commemorates Coach Kirby Smart's impact on Georgia football. Full of dynamic photos, compelling stories and features on key players, this coffee-table book offers an insider's perspective of Coach Smart's philosophy and drive to catapult the Bulldogs into national prominence for the first time since 1980.
Production is underway now, with release set for November 18, 2022. Pre-orders are open at Pediment Publishing
Additional details:
Title: Dawgs Rising: How Kirby Smart Transformed Georgia into a Perennial Contender
Hardcover, collector's edition
ISBN: 9781638460343
Published by Pediment Publishing
160 pages on 80# archival stock meant to last and not yellow for generations
Printed in North America
About The Athens Banner-Herald
The Athens Banner-Herald covers University of Georgia football with a full staff of journalists. Their compelling coverage is second to none. Subscribe to OnlineAthens today and support local journalism.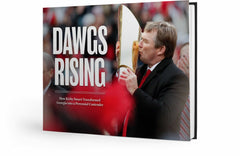 Athens Banner Herald presents
Dawgs Rising: How Kirby Smart Transformed Georgia into a Perennial Contender
$39.95