Four college basketball programs featured in new hardcover book
Pediment Publishing is proud to announce a partnership with Graham Honaker and Jerry Logan on a limited-edition book that showcases how Villanova, Gonzaga, Davidson and Loyola-Chicago broke the mold and found lasting success. The NCAA men's basketball tournament manufactures the Cinderella story like clockwork, but most Cinderellas come and go. When next year's bracket is revealed, the boxes are all blank once more and a fresh pack of underdogs crowds the edges of the field. Yet, over time a small group of one-time Cinderellas have broken the mold to become something more, and their blueprints are stunningly similar. With inside stories featuring some of college basketball's most recognizable personalities, "Unbracketed" explores how Villanova, Gonzaga, Davidson and Loyola-Chicago have pulled off the biggest upset: turning the Cinderella story into a lasting narrative of big-time college athletics done the right way.
Production is underway now, with release set for November 18, 2022. Pre-orders are open at Pediment Publishing.
Additional details:
Title: Unbracketed: How Four College Basketball Programs Burst the Bubble and Made the Big-Time

Hardcover, collector's edition

ISBN: 9781638460176

Published by Pediment Publishing

256 pages

Printed in North America
About The Authors and Our Previous Projects
Unbracketed is Pediment's second book published with authors Honaker and Logan, the first being 2021 release, The Cinderella Strategy: The Game Plan behind Butler University's Rise to Prominence.
Graham Honaker is Butler University's Executive Director of Principal Gifts. He started at Butler in 2012, just after their back-to-back national championship runs. As he watched the university grow he recognized there was a unique story to be told.
Jerry Logan is the Director of Academic Operations and a Lecturer in the Recreation, Sport, and Wellness program at Gordon College in Wenham, MA. He first visited Butler in 2017 for a PhD project about how athletic success can impact universities.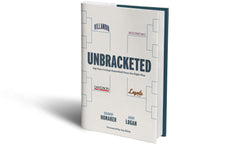 Pediment Publishing presents
Unbracketed: Big-Time College Basketball Done the Right Way
$22.45 $24.95