Final cover announced for new hardcover book commemorating Georgia's perfect 2022 season
Pediment Publishing and the Athens Banner-Herald announce a limited-edition book that follows Georgia throughout their incredible 2022 season. Full of compelling stories and dynamic photos from the Bulldogs' hometown paper, the Athens Banner-Herald, this collector's book puts you inside the huddle as Georgia's historic season culminated in its second straight national championship. Plus foreword by UGA legend Aaron Murray. This keepsake includes coverage of the regular season, SEC championship, playoffs and national championship. Last season's book sold out, so order your copy of this season's book while you can!
Production is underway now, with release set for March 3, 2023. Pre-orders are open at Pediment Publishing.
Additional details:
Title: Glorious: Georgia Secures Its Second Consecutive National Title with a Perfect Season
Hardcover, collector's edition
ISBN: 9781638460565
Published by Pediment Publishing
160 pages on 80# archival stock meant to last and not yellow for generations
Printed in North America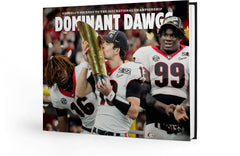 Athens Banner Herald presents
Dominant Dawgs: Georgia's Journey to the 2021 National Championship
$39.95