Final cover announced for new hardcover book commemorating 150 years of Detroit history
The final cover has been selected for our upcoming hardcover book – 150 Years of Detroit History: Through the Lens of The Detroit News.
The cover features several images from various big historical events over the years. Clockwise from lower left:
•• Detroit's Joel Zumaya celebrates with the fans at the end of the game after the Tigers beat the Yankees in the ALDS Game 4 at Comerica Park, October 7, 2006.
•• Workers at the Ford Rouge plant assemble an airplane engine, November 26, 1941.
•• Red Wings' Steve Yzerman hoists the Stanley Cup, June 7, 1997.
•• Stevie Wonder gets a kiss, 1969.
•• Pedestrians tended to cross the street wherever they pleased in Campus Martius in the early 20th century. 

Celebrate 150 years of gorgeous photography and gripping journalism by The Detroit News with this hardcover collector's book full of historic photos and front pages that capture the rich and diverse history of Detroit.
Authored by the award-winning journalists at The Detroit News, each image is accompanied by engaging and informative cutlines that provide context and insight into the people, events, and moments that have defined the city's past. From the iconic landmarks like the Michigan Central Station and the Ambassador Bridge, to the legendary musical legacy of Motown, this book offers a distinguished look at what makes Detroit a unique and beloved city.
This limited-edition book is the perfect holiday gift for your loved ones. Click the link below to purchase!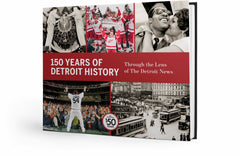 The Detroit News presents
150 Years of Detroit History: Through the Lens of The Detroit News
$44.95