150 years of The Detroit News commemorated in new hardcover book
Pediment Publishing and The Detroit News announce a limited-edition book that showcases hundreds of historic photos and front pages capturing the rich and diverse history of Detroit.
Authored by the award-winning journalists at The Detroit News, each image is accompanied by engaging and informative cutlines that provide context and insight into the people, events, and moments that have defined the city's past. From the iconic landmarks like the Michigan Central Station and the Ambassador Bridge, to the legendary musical legacy of Motown, this book offers a distinguished look at what makes Detroit a unique and beloved city.
Whether you're a lifelong resident or just discovering Detroit for the first time, "Iconic Images and Front Pages of Detroit's Past" is a must-have for anyone who appreciates the beauty and complexity of Detroit's history.
Additional details:
Title: Iconic Images and Front Pages of Detroit's Past: The Detroit News Commemorates 150 Years of Service to Detroit
Hardcover, collector's edition
ISBN: 9781638460640
Published by Pediment Publishing
160 pages on 80# archival stock meant to last and not yellow for generations
Printed in North America
About The Detroit News
The Detroit News is proud to support local history and compelling journalism. Learn more and subscribe today.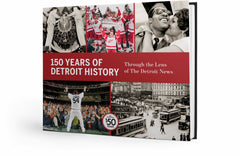 The Detroit News presents
150 Years of Detroit History: Through the Lens of The Detroit News
$44.95