Final cover announced for hardcover book exploring legendary Green Bay career of Aaron Rodgers
The final cover has been selected for the upcoming hardcover book, "12: A Tribute to Aaron Rodgers' Legendary Green Bay Career."
The cover features Aaron Rodgers (12) celebrating a touchdown run with Billy Turner (77) and Elgton Jenkins (74) at Lambeau Field in Green Bay on October 20, 2019. Courtesy Dan Powers / Milwaukee Journal Sentinel
Filled with sensational stories, in-depth interviews, and fantastic photos from the award-winning journalists of the Green Bay Press-Gazette, this book lets you relive the most thrilling moments of Rodgers' time in Green Bay. Immerse yourself in the behind-the-scenes moments that shaped the legacy of one of the NFL's greatest quarterbacks.
This limited-edition book is the perfect holiday gift for your loved ones. Click the link below to purchase!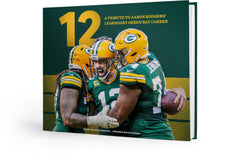 Green Bay Press-Gazette presents
12: A Tribute to Aaron Rodgers' Legendary Green Bay Career
$44.95