East Oregonian publishes pictorial history of region
PENDLETON — The East Oregonian will publish a new hardcover coffee-table book: "Umatilla County Memories: A Pictorial History of the mid-1800s through 1939."
Set for release this November, the heirloom-quality book will feature a glimpse of Umatilla County from the 1800s to 1939 through stunning historic photos — many of them never before published.
The volume will feature historic photos from the Umatilla County Historical Society, Athena Public Library, city of Echo, Milton-Freewater Area Historical Society, Pendleton Round-Up, Tamástslikt Cultural Institute, as well as from newspaper readers.
"We're extremely grateful for the assistance from these partners for opening their photo archives to us, and also to area resident Wayne Low for sharing several stunning images from his private collection," said EO publisher Chris Rush.
"This project was born out of a previous book published by the newspaper in 1998, 'Umatilla County: The Early Years,'" said Rush. "That book proved to be quite popular and we determined that after 20 years, it was time to open the window into our local history a little bit wider. So, we reached out to multiple community partners across the county to insure this book would be as representative of the area's cultural diversity as possible."
The photos range from portraiture to scenes of everyday life in the late 19th and early 20th centuries as Umatilla County grew into a vibrant agricultural and commercial hub of northeast Oregon. Book chapters are organized by Views and Street Scenes, Transportation, Agriculture and Industry, Commerce, Education, Public Service, Community, and Recreation and Celebration.
"While this volume is not intended as a comprehensive history of the region, these photographs provide a glimpse into the lives of Umatilla County citizens in moments of both celebration and desperation, as well as the many mundane facets of life as it existed here more than a century ago," said Rush. "I believe long-time area residents and newcomers alike will learn something and gain a new appreciation of this diverse and colorful place we call home."
For a limited time, this heirloom book can be pre-ordered at the discounted price of $29.95 online at Umatilla.PictorialBook.com, via mail-in coupon, or in-person at the East Oregonian office, 211 S.E. Byers Ave. in Pendleton.
The finished book is scheduled to ship on Nov. 22, in time for holiday gift giving.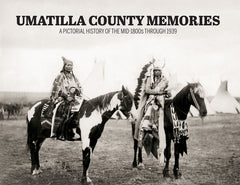 East Oregonian presents
Umatilla County Memories: A Pictorial History of the mid-1800s through 1939
$44.95