Cover announced for Rhode Island Memories II: The 1940s and 1950s
The final cover has been selected for our upcoming hardcover book, Rhode Island Memories II: The 1940s and 1950s.
The cover image, courtesy of The Providence Journal, depicts the Francis Kenney family showing off their Ford Fairlane outside their home in the Greenwood section of Warwick during the summer of 1955. They painted their auto to mimic the spots on their Dalmatian, Skipper. Frank Kenney and his wife, Rose, had a sense of humor. Frank ran a car dealership called Ken-Mac Motors on Elmwood Avenue in Providence during the 1950s. They had a Dalmatian named Skipper, and lived in Warwick's Greenwood section. If Frank's coveted four-digit Rhode Island license plate wasn't enough to let people know he was coming, he had a Ford Fairlane painted in livery that resembled his pet pooch. When Journal Warwick reporter Raymond Nelson shot this photo, the Kenneys invited a couple of kids to hop in the car with Frank to make it more fun. The picture has been reprinted many times, including in Life Magazine.
This limited-edition book is the perfect holiday gift for your loved ones. Click the link below to purchase!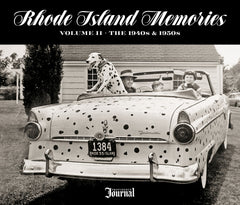 Providence Journal presents
Rhode Island Memories II: The 1940s & 1950s
$29.95 $44.95