Cover Announced for Agnes Remembered
The final cover has been selected for our upcoming hardcover book, Agnes Remembered: 50 Years After Wyoming Valley's Worst Disaster.
Tropical Storm Agnes was the worst natural disaster in US history to that point, and it remains the most destructive event in the history of the Wyoming Valley. 
Formed off the Mexican coast, the first Atlantic hurricane of 1972 was never more than a Category 1 storm, with winds less than 90 mph at its peak. By the time it reached the East Coast and stalled over Pennsylvania and western New York it had grown tremendously and dropped up to 19 inches of rain in some areas. 
The Susquehanna River, swollen by heavy rains, breached the levees in the valley on June 23 as up to 100,000 people fled for higher ground. The storm caused $3 billion in damage in 12 states, $19 billion in today's dollars, and took at least 118 lives. 
The top left photo shows an aerial view of flooded portions of West Nanticoke along the Susquehanna River.

In the top right, an unidentified woman is evacuated as floodwaters rise.

The bottom right image features a military jeep driving up the center of Route 11, West Main Street, Plymouth, through rising floodwaters. The Plymouth Post Office is on the upper right. The Wyoming Valley West High School is on the left.

 
After the water receded, thousands of residents spent months living in government-issued trailers as the mud and debris were swept away and houses repaired. In the following years, what couldn't be repaired was replaced. New construction boomed in the surrounding mountains as homeowners moved out of the flood plain. The levees would be rebuilt and then raised against future floods. 
The top middle photo shows a large monument in the Forty Fort Cemetery, weighing 5 tons, knocked over by the flood.

In the bottom left is a scene from Church and Shoemaker Streets in Swoyersville as cleanup begins.
June 1972 was a turning point for Wyoming Valley. Life would return to normal in many respects. But some things would never be the same. Fifty years later, we still remember Agnes.
This limited-edition book is the perfect holiday gift for your loved ones. Click the link below to purchase!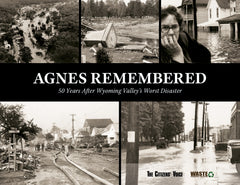 The Citizens' Voice presents
Agnes Remembered: 50 Years After Wyoming Valley's Worst Disaster
$44.95