Cover Announced: Detroit Memories III: A Pictorial History of the Early Years and the 1950s
The final cover has been selected for our hardcover book Detroit Memories III: The 1950s. 
The cover image, courtesy of Detroit Historical Society, depicts the intersection of Joseph Campau Street and Edwin Street in Hamstramck, looking north along the west side of Joseph Campau, circa 1950. Businesses that are visible include Modern Men's Shop, Kinney Shoes, Jack's 5th Avenue Men's Shop, Baker's Shoes, Max's Jewelry, Federal Furniture Company, Dave Stober [men's clothes], Max's Jewelry, Federal Department Stores, Respondek Rexall Drugs, A.J. Mackewicz, D.O.S., and the Campau Theatre.
The limited-edition book is the perfect holiday gift for your loved ones. Pre-order today to save big!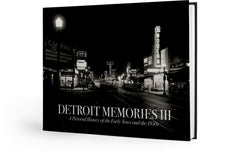 Detroit Free Press presents
Detroit Memories III: A Pictorial History of the Early Years and the 1950s
$44.95