Woodland Memories: Merry Christmas from Chalmers Brothers Meat Market
Don't miss your chance to save big on the perfect gift for any long-time Woodland or Yolo County resident! The Daily Democrat's beautiful pictorial history book "Woodland Memories: The Early Years" ships later this month but is still on pre-sale for just $29.95, $15 off the retail price. 
This deal expires on November 20th!
Don't wait until Black Friday to start your Christmas shopping
Below we see the staff at Woodland's Chalmers Brothers Meat Market showing off their holiday goods and elaborate Christmas decorations in just one example of the hundreds of classic photographs found in this hardbound, heirloom-quality book. Preview additional photos of old-time Main Street here, and early motorcycles in Yolo County here.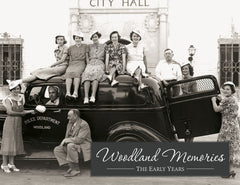 Daily Democrat presents
Woodland Memories: The Early Years
$44.95