Early Motorcycles in Yolo County
The development of the gasoline internal combustion engine coinciding with the emerging popularity of the modern-looking "safety bicycle" (replacing the dangerous, big-wheeled penny-farthing) had engineers racing to develop the motorcycle.
Around the same time automobiles began puttering past horse-drawn carriages, motorcycles began weaving through traffic. The first commercial motorcycles were released in Europe and America between 1894 and 1898, and rapidly began gaining popularity at the turn of the century.
Early models were essentially bicycle frames with an engine strapped on, but the competition of motorcycle racing and a sudden demand for heavy-duty machines during World War I helped develop the bikes into something completely new.
Within a decade or so of motorcycles being available for purchase in the United States, police departments began employing the technology and organizing motorcycle divisions. Police motorcycle divisions saw an uptick in popularity during the Great Depression.
The officer above is riding an Indian motorcycle, one of two major motorcycle brands (along with Harley-Davidson) to survive the Depression.
These and hundreds of other historic images can be found in The Daily Democrat's new pictorial history book, Woodland Memories!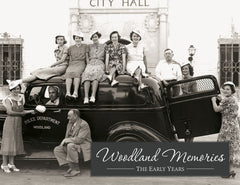 Daily Democrat presents
Woodland Memories: The Early Years
$44.95