Give the gift of South Shore memories this Christmas
The NWI Times' brand new pictorial history book "Memories Along the South Shore: Volume II - The 1940s, 1950s and 1960s" ships soon but is still on pre-sale for just $29.95, $15 off the retail price.  
This deal expires on November 27th!
Don't wait until December to start your Christmas shopping
This hardbound, heirloom-quality book features hundreds of beautiful, historic photographs from the South Shore area, including the shot below. Preview additional photos from the South Shore during World War II here. Click "More info" below for additional details on the book.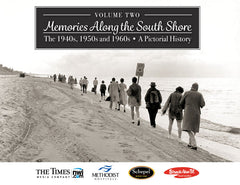 The Times presents
Volume II: Memories Along the South Shore: The 1940s, 1950s and 1960s
$44.95