Our Black Hills and Badlands: Christmas in the 1940s
The Rapid City Journal's beautiful new pictorial history book "Our Black Hills and Badlands II" ships soon but is still on pre-sale for just $29.95, $15 off the retail price.  
This deal expires on November 27th!
Don't wait until December to start your Christmas shopping
This hardbound, heirloom-quality book features hundreds of beautiful, historic photographs spanning the Black Hills, Badlands, and Rapid City during the 1940s, '50s, and '60s, including these wonderful Christmas shots. 
Don't worry about getting snowed in this holiday season. Order online and have the perfect gift for any long-time resident of the area delivered in time for Christmas. 
Preview additional photos here and here. Click "More info" below for details about the book.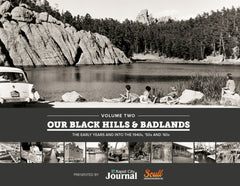 Rapid City Journal presents
Volume Two: Our Black Hills & Badlands: The Early Years and Into The 1940s, '50s and '60s
$44.95