Hitchcock in Rapid City for the filming of North by Northwest
In 1959, Alfred Hitchcock, the director of movies such as Vertigo, Psycho, and The Birds, visited Rapid City to film the iconic Mount Rushmore scene in "North by Northwest" starring Cary Grant and Eva Marie Saint.
During their time filming at Mt. Rushmore, Cary and Eva spent some time enjoying the sights that Rapid City had to offer.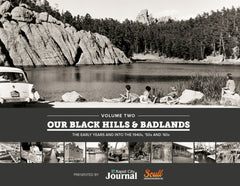 Rapid City Journal presents
Volume Two: Our Black Hills & Badlands: The Early Years and Into The 1940s, '50s and '60s
$44.95