Albemarle Memories Scanning Sessions
We are thrilled to give our readers the opportunity to submit historic photos for our upcoming "Albemarle Memories: A Pictorial History of the mid-1800s through 1939" book project. If you have photographs that meet the criteria below, please bring them to one of our scanning sessions listed here.
Submission Guidelines
General interest photos, such as: commerce, industry, transportation, rural life, public service, etc.
Photos taken between the mid-1800s and 1939.
Photos taken in Bertie, Camden, Chowan, Currituck, Hertford, Pasquotank, Perquimans, Tyrrell and Washington counties.
Limit 10 photos per family. No appointment necessary.
If you're a private collector, call 360-723-5800 to set up an appointment.
We encourage those who have not yet been vaccinated for COVID-19 to wear a mask and practice social distancing while attending these scanning sessions.
Download Submission Form
Because we expect a large turnout, we advise you to download and print a submission form. Please print and fill out one form for each photo you'd like to submit.
Download submission form PDF (fillable).
Session Details
Monday, July 26, 5:30 p.m. – 7:30 p.m.
Bertie County Public Library
102 Lancaster Ave., Windsor
View Map
Thursday, July 29, 1 p.m. – 3 p.m.
Museum of the Albemarle
501 S. Water St., Elizabeth City
View Map
Saturday, July 31, 10 a.m. – noon
Camden County Heritage Museum
117 NC 343 N., Camden
View Map
Penelope Barker House Welcome Center
505 S. Broad St., Edenton
View Map
For scanning in Edenton and surrounding areas, appointments are required. Please contact the Edenton Historical Commission at 252-482-7800 for info and scheduling prior to July 1.
We hope to see you there!
Bring us your best photos and we'll scan them in while you wait. Plus, chances are some other fine folks will show up, so bring your stories to share with one another.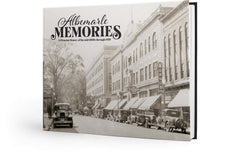 Adams Publishing Group presents
Albemarle Memories: A Pictorial History of the mid-1800s through 1939
$19.95 $44.95