A Sneak Peek into Magic Valley: Through Our Eyes
Our upcoming hardcover book, Magic Valley: Through Our Eyes, provides a look at hundreds of photos and newspaper front pages from the 1800s through the new millennium. 
In this post you can get a sneak peek into a fascinating spread about famous stuntman Evel Knievel. 
Here we see Evel Knievel in the days leading up to his jump attempt over Snake River Canyon, August 26, 1974. The launch took place at the south rim of the canyon, west of Shoshone Falls, on September 8, 1974.
Knievel made his farewell performance riding the steam-powered Skycycle X-2. To get permission from the state to do the jump, the X-2 was registered as an airplane instead of a motorcycle. 
This limited-edition book is the perfect holiday gift for your loved ones. Click HERE to purchase.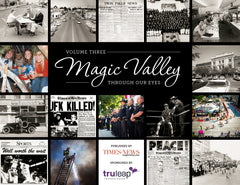 Times-News presents
Magic Valley: Through Our Eyes
$44.95