Scranton Says Goodbye to "The Office"
"Ain't no party like a Scranton party.."
The famous words by Michael Scott, the iconic manager of "The Office" portrayed by actor Steve Carell, rang true on May 4th, 2013, as the show's wrap party celebrations took place in Scranton, PA.
May 16, 2013 may have marked the series finale of NBC's beloved workplace comedy, but twelve days before that, approximately ten thousand fans gathered in Scranton, PA, to bid a special farewell to "The Office."
The wrap party events included a behind the scene panel, a parade, a concert by the cast, a farewell celebration at PNC Field where the cast answered fan questions, and more. Fans even received a special surprise with the unexpected attendance of Steve Carell at the festivities. 
The farewell celebration capped the end of a whirlwind day that brought people from around the world to Scranton to celebrate the end of this award-winning show set in Scranton.
Though "The Office" wasn't actually filmed in Scranton — most of the scenes were shot at the Chandler Valley Center Studios in Los Angeles — the show has become part of the history of Scranton that will not soon be forgotten.
Don't miss these and other interesting historical photos in the hardcover book, "Scranton: The First 150 Years."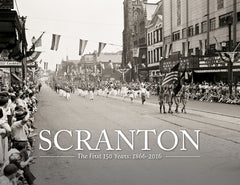 The Times-Tribune presents
Scranton: The First 150 Years - 1866-2016
$44.95