Larry Holmes' Fight for Scranton
Larry Holmes started his very successful heavyweight-boxing career at the Catholic Youth Center in Scranton in 1973. Holmes held his heavyweight championship for seven years (the third longest streak after Joe Louis and Wladimir Klitschko) from 1978 to 1985.
"This fight is for the people of Scranton. This is the homecoming fight."
Among his many achievements, he is the only person to defeat Muhammad Ali by knockout. In 2008 he was inducted into the International Boxing Hall of Fame.
See this and many fantastic historic Scranton moments in our upcoming book, Scranton 150.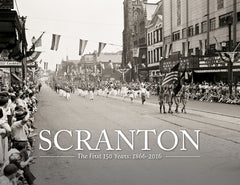 The Times-Tribune presents
Scranton: The First 150 Years - 1866-2016
$44.95