15 seasons of Alabama Coach Nick Saban commemorated in this hardcover book
Pediment Publishing and The Tuscaloosa News announce a limited-edition book that commemorates Alabama football coach Nick Saban's historic career. From his recruiting to community involvement, player development to National Championships, this 160-page coffee-table book showcases the Crimson Tide in stories and action-packed color photos from the award-winning journalists of The Tuscaloosa News.
Additional details:
Title: Nick Saban: 15 Epic Seasons That Changed Alabama Football Forever
Hardcover, collector's edition
ISBN: 9781638460022
Published by Pediment Publishing
160 pages on 80# archival stock meant to last and not yellow for generations
Printed in North America
About The Tuscaloosa News
The Tuscaloosa News covers the Alabama Crimson Tide with a full staff of journalists. Their compelling coverage of Alabama football is second to none. Subscribe today and support local journalism.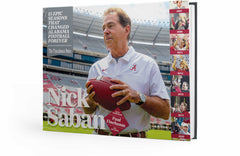 Tuscaloosa News presents
Nick Saban: 15 Epic Seasons That Changed Alabama Football Forever
$39.95