World War II Bombers at the Sioux City Army Airbase
The Sioux City Air National Guard Base at the Sioux Gateway Airport originated as the Sioux City Army Airbase during World War II.
Construction of the base began just three months after the bombing of Pearl Harbor and the United States' entry into the war, and was completed in July 1942. The base specialized in advanced training and was the last stop for many air crews before being deployed overseas in heavy bombers like the B-17 Flying Fortress, pictured below, which was used extensively in Europe; the B-24 Liberator, which was used all over the world; or, later in the war, the B-29 Superfortress, pictured above, which was used exclusively in the Pacific. 
Dwarfed by the heavy bombers described above, the base also hosted the popular and versatile P-51 Mustang, pictured below, which was used in a variety of roles such as an escort for larger planes, a combat fighter, or a light bomber.
The base changed hands multiple times throughout World War II, the Korean War, and the Vietnam War, and has been operated by the Iowa National Guard since 1968.
These and over 300 additional classic Sioux City images can be found in the new Sioux City Journal book, Sioux City Memories II!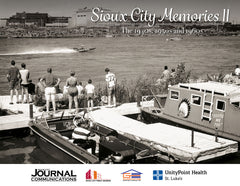 Sioux City Journal presents
Volume II: Sioux City Memories: The 1940s, 1950s, and 1960s
$15.05 $44.95