Tulane's terrific 2022 season showcased in new hardcover book
Pediment Publishing and The Times-Picayune announce a limited-edition book that chronicles Tulane's improbable 2022 season and their miraculous victory in the Cotton Bowl. Full of compelling stories and dynamic photos from the Green Wave's hometown paper, The Times-Picayune, this collector's book puts you inside the huddle as Tulane's historic season culminated in a dramatic win over USC in the Cotton Bowl.
Production is underway now, with release set for April 28, 2023. Pre-orders are open at Pediment Publishing.
Additional details:
Title:

Shock Wave: Tulane's Improbable Season and Cotton Bowl Title

Hardcover, collector's edition

ISBN:

9781638460572

Published by Pediment Publishing

144 pages on 80# archival stock meant to last and not yellow for generations

Printed in North America
About The Times-Picayune:
The Times-Picayune covers the Green Wave with a full staff of journalists. Their compelling coverage of Tulane football is second to none. Subscribe today and support local journalism.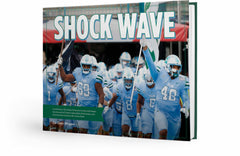 The Times-Picayune presents
Shock Wave: Tulane's Thrilling Season
$39.95