We are proud to announce the final cover for the upcoming The Rise commemorative book, as seen below.
This hardcover book is perfect for any Colorado Buffaloes football fan. Pre-order today to save big!
Depicted on the front cover is Colorado quarterback Sefo Liufau celebrating a touchdown run against Utah (photo courtesy Cliff Grassmick). What a fantastic cover for this unique hardcover book!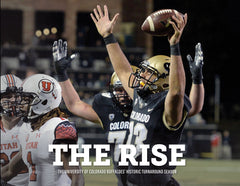 Daily Camera presents
The Rise: The University of Colorado Buffaloes' Historic Turnaround Season
$39.95