Historic images of the Sunset Theatre in Asheboro, NC
Built in 1930 in a grand Spanish style reflecting Hollywood's influence at the time, the Sunset Theatre opened on Sunset Avenue to become Asheboro's first dedicated movie house.
The theatre brought Asheboro its movies for 50 years before being shut down in 1981.
These and hundreds of other classic images from the Sunset Theatre, Asheboro, and Randolph County can be found in the Courier Tribune's new book, "Randolph County Memories." See below for more details!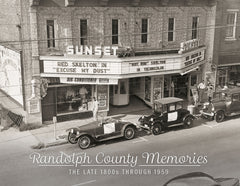 The Courier Tribune presents
Randolph County Memories: The Late 1800s Through 1959
$44.95