Dick and Ruth Groat Share Great Portland Photos
Longtime Portland residents Dick and Ruth Groat brought some of their treasured photos to the first scanning session for the Portland Memories book. The Oregonian | OregonLive has invited the public to participate in this unique community book project and the Groats jumped on the opportunity.
Dick and Ruth are both collectors, having gone to expos and paper shows, collecting photos and movie posters. When they read the article in the Oregonian they decided to bring a few items in. We're delighted they did! Here's a sampling of what the Groats shared:
Learn more about this extraordinary community book project in this article by Mark Katches, editor and vice president of content at Oregonian Media Group.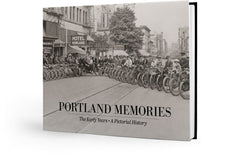 The Oregonian and OregonLive presents
Portland Memories: The Early Years
$44.95