The captivating career of Tom Brady detailed in new hardcover book
Pediment Publishing and USA TODAY Sports announce a limited-edition book that highlights Tom Brady's prolific 23-season career. From his early days as a Michigan Wolverine to his Super Bowl victories with the New England Patriots and Tampa Bay Buccaneers, every pivotal moment of Brady's legendary career is covered in detail. In the pages of this book, you will find rare photographs, fascinating stories, and insights from the people who have covered Brady's career the closest. You will relive the unforgettable moments that defined his career, from his first Super Bowl victory with the New England Patriots to his record-breaking performance in Super Bowl LI.
But this book is not just a collection of highlights and statistics. It is also a tribute to the character and work ethic that have made Tom Brady one of the most respected players of all time. From his early days as a lightly recruited high school quarterback to his emergence as a leader on the field, this book shows how Brady's dedication and determination have fueled his success.
Additional details:
Title:

Greatness: Tom Brady's Legendary Career

Hardcover, collector's edition

ISBN:

9781638460671

Published by Pediment Publishing

208

pages on 80# archival stock meant to last and not yellow for generations

Printed in North America

USA TODAY SPORTS features high school coverage on up to professional sports with a full staff of journalists. Their compelling coverage of sports in the US is second to none. Subscribe today and support local journalism.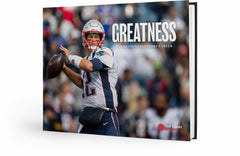 USA TODAY Sports presents
Greatness: Tom Brady's Legendary Career
$39.95