Teen Idol Frankie Avalon at Salisbury Beach
By the early 1960s, young Frankie Avalon had two number one singles under his belt with "Venus" and "Why" and a burgeoning acting career that would see him become a mainstay in the pervasive "beach party" genre of the mid-1960s. In the wake of the wild youth appeal of 1950s acts such as Elvis Presley, Avalon is considered one of the first celebrities deliberately elevated by the entertainment industry as a teen idol.
Here, Avalon is seen with a young fan early in his career, still riding the wave of success brought by his number one singles.
The Daily News is proud to announce a beautiful coffee-table book featuring historic images of Plum Island and Salisbury from the 1800s-today: Plum Island & Salisbury Memories.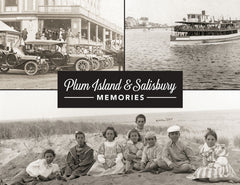 The Daily News presents
Plum Island & Salisbury Memories
$39.95