Southern sports superstars showcased in new hardcover book
Pediment Publishing and The Charlotte Observer announce a limited-edition book that highlights the superior sports figures of the Carolinas. You'll see your favorite athletes from North Carolina and South Carolina in an entirely new light. Legends such as Steph Curry, Roy Williams, Dale Earnhardt Jr., Dawn Staley, Jay Bilas, Jake Delhomme, Charlie Scott, Muggsy Bogues, and more sat down for unique one-on-one interviews where they opened up about their journeys — not just the celebrations and championships, but the struggles and heartbreak. These in-depth interviews with more than 20 legends are presented in a compelling way in this collector's book.
Production is underway now, with release set for November 17, 2023. Pre-orders are open at Pediment Publishing. 
Additional details:
Title:

Sports Legends of the Carolinas: Exclusive Photographs and In-Depth Conversations with the Sports Icons of our Times

Hardcover, collector's edition

ISBN: 9781638460695

Published by Pediment Publishing

176 pages on 80# archival stock meant to last and not yellow for generations

Printed in North America
About The Charlotte Observer
The Charlotte Observer is proud to support local history and compelling journalism. Learn more and subscribe today.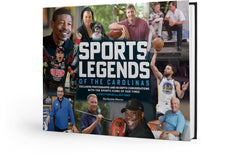 The Charlotte Observer presents
Sports Legends of the Carolinas: Exclusive Photographs and In-Depth Conversations with the Sports Icons of our Times
$31.95 $39.95