Rhode Island Memories III Scanning Sessions
Update 4/7/2020: As the health and safety of the community is a top concern for the Providence Journal and our partners, the recent outbreak of the COVID-19 virus has led us to cancel the public scanning sessions. We encourage you to submit your photos online here.    
We are thrilled to give our readers the opportunity to submit historic photos for our upcoming Rhode Island Memories III: Turmoil to Renaissance book project. If you have photographs that meet the criteria below, please upload them online here.
Submission Guidelines
General interest photos, such as: commerce, industry, transportation, rural life, public service, etc.
Photos taken from 1960 through 1999.
Photos only — preferably original photos (no newspaper clippings or photocopies).
Photos taken in Rhode Island.
Limit 10 photos per family. 
If you are a private collector, please call 360.723.5800 to set up an appointment.
Download submission form PDF (fillable). 
Due to the current COVID-19 health priorities, all public scan sessions have been cancelled. Please submit your photos online here.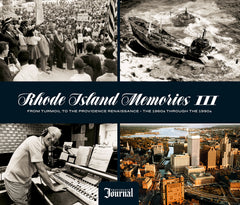 Providence Journal presents
Rhode Island Memories III: From Turmoil to the Providence Renaissance — The 1960s through the 1990s
$29.95 $44.95