Randolph County Memories Cover Announced
We are proud to announce the final cover for the upcoming Randolph County Memories pictorial history book, as seen below.
This hardcover book is the perfect holiday gift for your loved ones across Randolph County. Pre-order today to save big!
Depicted on the front cover is the Sunset Theatre marquee advertising the Red Skelton film "Excuse My Dust," Asheboro, circa 1951 (photo courtesy Randolph County Public Library). What a fantastic cover for this unique hardcover book!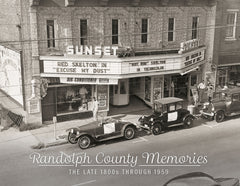 The Courier Tribune presents
Randolph County Memories: The Late 1800s Through 1959
$44.95