Rambler Model C Runabout in Watsonville, CA
This Rambler Model C Runabout surely scared the living daylights out of the horses that served as the primary occupants of Santa Cruz County roads at that time.
The "Kenosha Cadillac" was manufactured by the Thomas B. Jeffery Company and was one of the very first mass-produced and widely available automobiles around. The Thomas B. Jeffery Company was eventually acquired by the Nash Motors Company.
This and hundreds of other stunning, classic images can be found in "Santa Cruz Memories," a pictorial history book presented by the Santa Cruz Sentinel!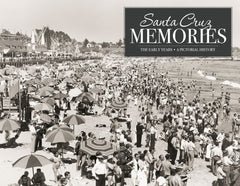 Santa Cruz Sentinel presents
Santa Cruz Memories: The Early Years
$44.95