Pacific Northwest gardening projects explored in new hardcover book
Pediment Publishing and The Oregonian/OregonLive announce a limited-edition book that explores gardening in the Pacific Northwest. This 160-page book features the best of The Pecks' columns with illustrative full-color photography. Both a practical guide and a showpiece for your coffee table, this book is sure to delight all who love the Pacific Northwest.
The Oregonian/OregonLive's proceeds from the book will go to support the High School Journalism Institute, a weeklong training camp for student journalists. Learn more at oregonhsji.org.  
Additional details:
Title: Peace, Love and Gardening: Understanding Pacific Northwest Gardens and Do-It-Yourself Projects to Beautify Them – From the Best of the Pecks' Columns

Hardcover, collector's edition

ISBN:

9781638460220

Published by Pediment Publishing

160

pages on 80# archival stock meant to last and not yellow for generations

Printed in North America
About
The
Oregonian
The Oregonian/OregonLive covers the creativity of cultivation in a column by Dennis and Marcia Peck. Their compelling coverage of home gardening projects in the PNW is second to none. Subscribe today and support local journalism.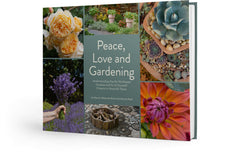 The Oregonian and OregonLive presents
Peace, Love and Gardening: Understanding Pacific Northwest Gardens and Do-It-Yourself Projects to Beautify Them – From the Best of the Pecks' Columns
$39.95