New Title for the Knights Book
With the Vegas Golden Knights set to host the Washington Capitals in the Stanley Cup Final on Monday, we are happy to announce an update to the title of the hardcover book published by the Las Vegas Review-Journal.
Prior to the Knights advancing over the Winnipeg Jets, the title of the book, Knights Journey: The Golden Knights' Record-Breaking Inaugural Season, was selected to convey the amazing season the team put together while not making any assumptions about where the Knights would finish.
Now that the Knights are NHL Western Conference Champions, the title has been changed to Knights to Remember: The Western Conference Champion Golden Knights and the Most Improbable Inaugural Season of All Time. We've also updated the cover mockup.
Should the Golden Knights win the Stanley Cup, we will be thrilled to update the title and cover again! 
Go Knights!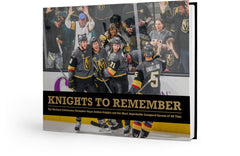 Las Vegas Review-Journal presents
Knights to Remember: The Western Conference Champion Vegas Golden Knights and the Most Improbable Inaugural Season of All Time
$39.95