Municipal Airport invites Bloomington aboard their DC-3s
In 1950, Ozark Airlines started using the DC-3 aircraft, which they acquired from Parks Airline. Before that, they used much smaller aircraft such as the Beech 17 Staggerwing and the Cessna AT-17 Bobcat. It was an exciting time for Ozark, and they were growing quite a bit—in the mid '50s, they had flights to twenty-five destinations.
Municipal Airport decided to give Bloomington citizens a tour of this powerful DC-3 machine in 1951 for Air Carrier Get Acquainted Day. This picture, which is included in the Pantagraph's McLean County Memories II, shows citizens surrounding the aircraft. All of the people shown were given access to explore the interior, and a lucky few were able to take a flight around Bloomington.
These specific crafts could hold thirty-two passengers and had a maximum speed of 230 mph. Production came to a halt in 1942, so the models Ozark acquired had seen a lot of use before they changed hands. However, they stay in great shape and are being used to this day.
Many more historic photos can be found in McLean County Memories II, coming this December.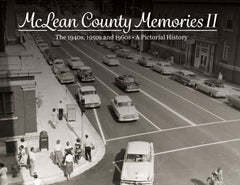 The Pantagraph presents
Volume II: McLean County Memories: The 1940s, 1950s and 1960s
$44.95