Minnesota in Seasons Cover Announced
We are proud to announce the final cover for the upcoming Minnesota in Seasons: A Photographic Journey Through Minnesota book, as seen below.
This hardcover book is the perfect holiday gift for your loved ones across the Minnesota area. Order your copy today!
Depicted on the top panel of the front cover is fog rolling over Shove Point at Tettegouche State Park in northern Minnesota (photo courtesy Ernesto Ruiz). Depicted on the bottom panel, from left, is ice stacking along the shores of Lake Superior (photo courtesy Jacob Keller), cheerful daisies (photo courtesy Chandra Whitfield), a fishing dock on a Minnesota lake (photo courtesy Dary Sime), and fall grasses at the Minnesota Landscape Arboretum (photo courtesy Dorothy Kvittum). What a fantastic cover for this unique hardcover book!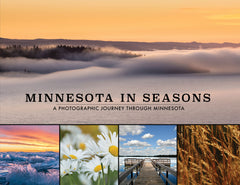 TPT presents
Minnesota in Seasons: A Photographic Journey Through Minnesota
$39.95