Mining City Memories: Famed flier Eugene Ely touches down in Butte
After developing a need for speed as a driver and racer in the early days of the automobile industry, the next logical step for Eugene Ely was to take to the skies as part of another burgeoning industry.
After crashing his boss's biplane on his first attempt at flight in 1910, he purchased the wreck, fixed it up, and quickly found his bearings above ground. He was flying in exhibitions and becoming a guinea pig for the United States Navy later that same year.
Ely became the first aviator to take off from a ship when he successfully launched from the USS Birmingham in November, nearly plunging into the water. The following January, he became the first to successfully land on a ship, this time the USS Pennsylvania. 
Like so many other pioneers of aviation, Ely died young in plane wreck. His final flight occurred during an exhibition in Macon, Georgia, in October 1911.
These and hundreds more historic images can be found in The Montana Standard's new book, Mining City Memories!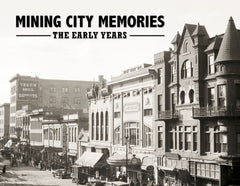 The Montana Standard presents
Mining City Memories: The Early Years
$20.00 $44.95