MASH '87: Meadville's legends of the hardwood
During the 1986-1987 season, perhaps the hottest ticket in Western Pennsylvania was to see the Meadville Area Senior High basketball team. Known for their electric play above the rim and total domination of the competition, the high school boys became local celebrities. 
Led by head coach Norm Price and coveted college recruit Mike Burnett (above) and lifted by heroics by players like Mike Pero (top), the MASH Bulldogs made their way to the PIAA AAAA State Championship before finally falling to Carlisle by one point. 
Read more about this legendary team at the Meadville Tribune: Still Legends -- The story of the 1986-87 Meadville Bulldogs
And see many more classic photos of these Bulldogs and hundreds of other Crawford County athletes and memorable moments in the Tribune's new hardcover, heirloom-quality book, Crawford County: Sports History Highlights!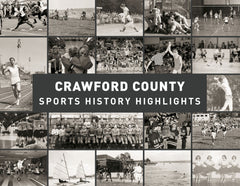 The Meadville Tribune presents
Crawford County: Sports History Highlights
$39.95