Manchester Memories III Cover Announced
We are proud to announce the final cover for the upcoming Manchester Memories Volume III pictorial history book, as seen below.
This hardcover book is the perfect holiday gift for your loved ones across the Manchester area. Pre-order today to save big!
Depicted on the top panel of the front cover is a view of Elm Street as seen at night, March 10, 1977 (photo by Charles Margelot, courtesy Union Leader Archives), and on the bottom panel are various memories from around the Manchester area. What a fantastic cover for this unique hardcover book!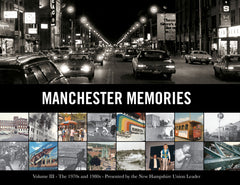 New Hampshire Union Leader presents
Volume III: Manchester Memories: The 1970s and 1980s
$39.95