A Look Back at Early Traffic on Gastonia's Main Street
Driving down the street everyday, seeing the same old sights, it can be hard to picture how your town has changed over the years. When you take a step back, though, it becomes evident that a lot can change in fifty years, twenty years, even ten years.
Below are images of Main Street Gastonia between 1897 and 1938, illustrating the significant changes that the streets have gone through to become the same old road you drive every day.
By the mid-1800s macadam pavement, or "tar concrete" was being used all over, including North Carolina. This was a big improvement over the dirt or plank roads of the time. According to a history of Gastonia and the York-Chester historic district, "Between 1895 and 1905, the county spent nearly forty thousand dollars on new bridges, and by the end of that ten-year-span, twenty-seven miles of macadamized roads eased mobility within the county… In 1905, the county's citizens passed a $300,000 bond issue for macadamizing and grading one hundred more miles of roads."
Despite improving road conditions, traffic safety was still in its infancy. It would be a few more years before changes were made to avoid the chaos of people, horses, carriages, and early automobiles sharing the road.
Thirty years makes for a striking difference. Below we see that cars replaced carriages, clear markings where people can drive and park, and no pedestrians or horses in the street.
In the early 1900s came bitulithic, or "hot mix," paving materials that could be applied more quickly than earlier methods, facilitating emerging automobile technology and increased road traffic.
The early 1900s saw many improvements in traffic safety. In 1911, road surface markings came about, starting with a simple line to indicate traffic flowing in opposite directions. The stop sign was first put into action in 1915, one year after the invention of the first red and green traffic lights in the United States.
If you look to the center of the picture below you can see the singular, modern traffic light hanging in the middle of the road.
See more of Gaston County history and hundreds of beautiful, historic photos in the Gazette's new book, Gaston County Memories: The Early Years.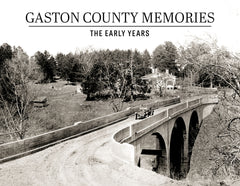 The Gaston Gazette presents
Gaston County Memories: The Early Years
$44.95