Lieutenant Moss and the Cycling 25th Infantry at Fort Missoula
In 1897, 25-year-old Lieutenant James Moss, a recent West Point graduate, led twenty soldiers from the 25th Infantry – accompanied by an army surgeon and 19-year-old Missoulian reporter Eddie Boos – from Fort Missoula to St. Louis, Missouri, on bicycles. The 41-day, approximately 2000-mile trek was an experiment in the legitimacy of using bicycles in the Army.  
Lieutenant Moss was first stationed at Fort Missoula as a result of of the system by which stations were assigned to West Point graduates. Students with top class rankings selected their assignments first. Moss, who held the lowest ranking of his class, picked last. Not many wanted to serve with African-American soldiers at the time, so Moss ended up being sent to Fort Missoula to lead the 25th Infantry's "Buffalo Soldiers," so named by the Native Americans in the area.
Moss was tasked by General Nelson Miles to see if the newly invented "safety bicycle" – featuring two wheels of the same size and a chain drive and resembling modern bikes – could be put to military use.  
A quote from Moss in a Fort Missoula Museum publication tells us how he felt the bicycle could be useful to the Army: 
"The bicycle has a number of advantages over the horse, it does not require as much care, it needs no forage, it moves much faster over fair roads…it is noiseless and raises but little dust, and it is impossible to determine its direction from its tracks… The trip has proved beyond peradventure my contention that the bicycle has a place in modern warfare."
While the bicycle was cutting-edge at the time, it was still a new technology, which meant that there were also considerable drawbacks. The same publication tells us that the army bicycles weighed nearly sixty pounds and the men had to carry food, ammo, camping supplies, and more on their handlebars, not to mention a ten-pound rifle on their back. The group faced other hardships as well, including inclement weather, barely traversable roadways, and sickness-inducing water sources to name just a few.
Finally, after 41 days of riding through all conditions, the group arrived in St. Louis to a hero's reception and were well taken care of for the remainder of their stay. Boos reported to the Missoulian that as the men reached the end of their journey, the Corps were escorted by hundreds and were welcomed by over 10,000 people upon reaching Forest Park. Within the month they were on their way back home, and considered the experiment to be mostly a success. They had discovered the bicycle corps could travel twice as fast as a cavalry on foot, and for one third the cost. 
Luckily for all the trek back home was easier; they traveled back to Fort Missoula by rail. 
Learn more about the 25th Infantry's journey in this PBS documentary, and get a glimpse into Missoula's history in the Missoulian's new book, Missoula Memories.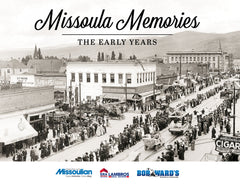 Missoulian presents
Missoula Memories: The Early Years
$30.00 $44.95